Commissions
COMMISSION WORK
I have had commissions from all over the world and my work is collected in Australia, Europe, USA,Taiwan, no destination is too far!
Below are a few examples of the diverse range I can paint tailored from customers wishes.
I use mainly Acrylics but can work in any medium you wish.
If you would like a commission please feel free to e-mail me under the 'contact us' section, thank you.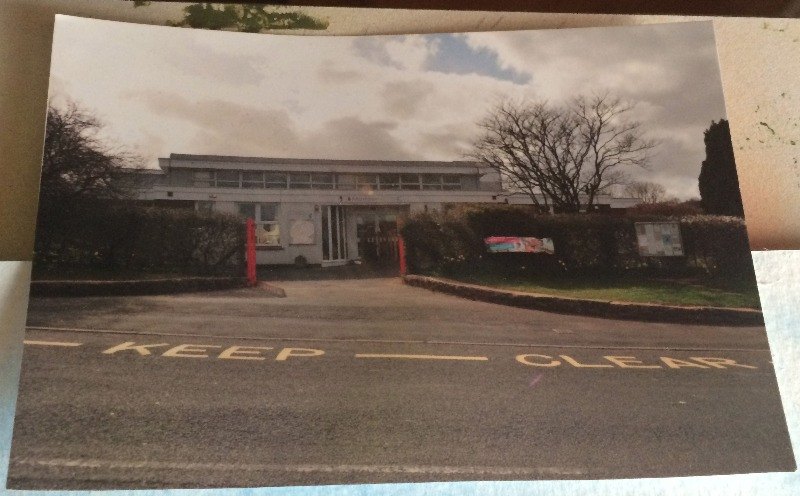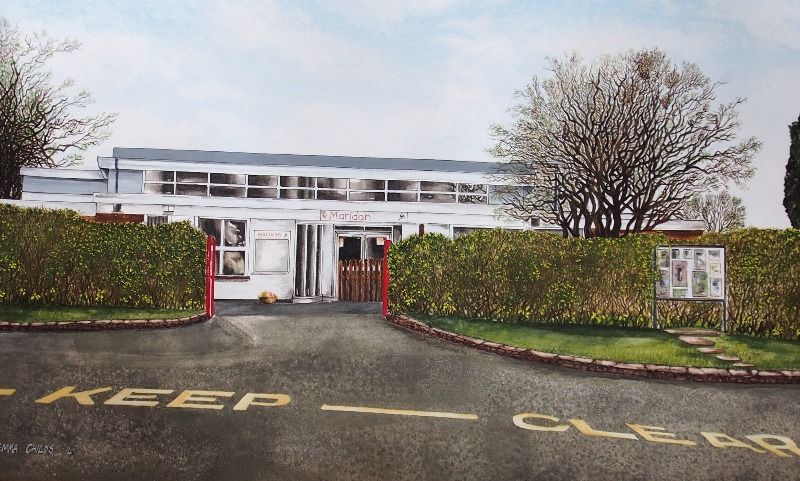 The top image is the original photo of the school building i worked from. Below is the original painting produced using Acrylics.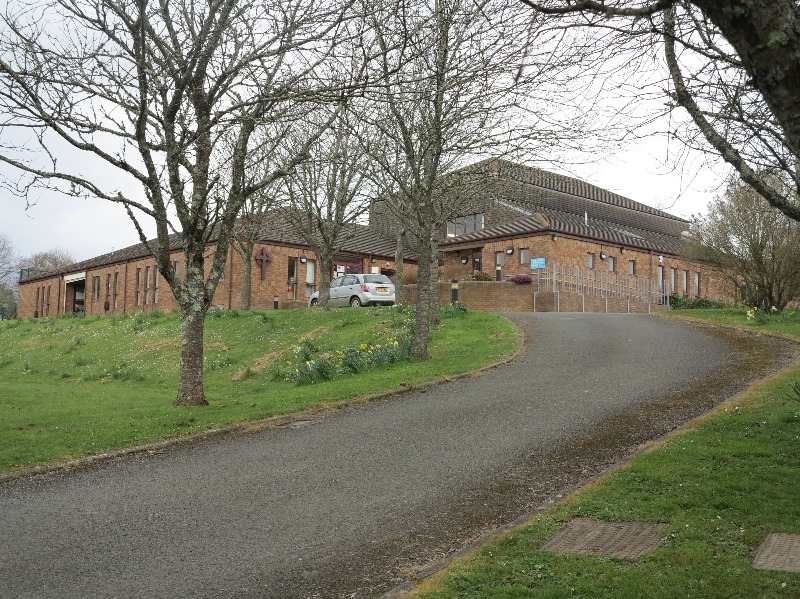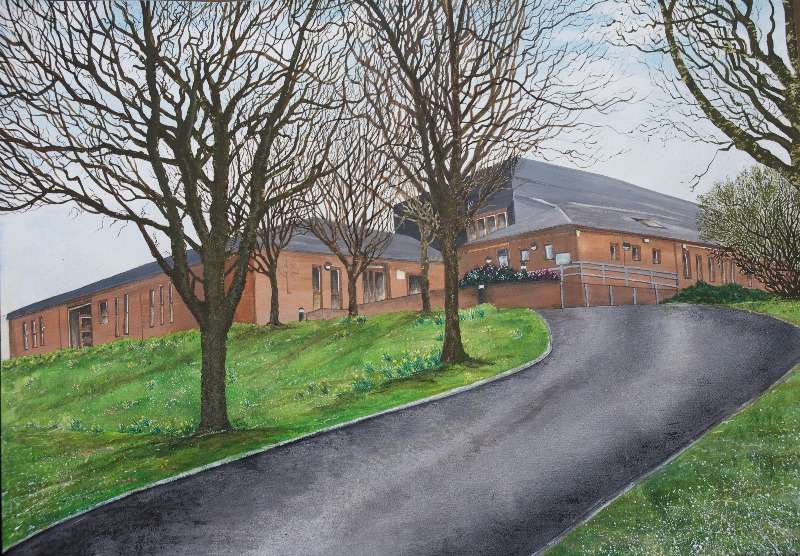 The third image is a photo of another school building that I was commissioned to paint & below it is the original painting produced using Acrylics.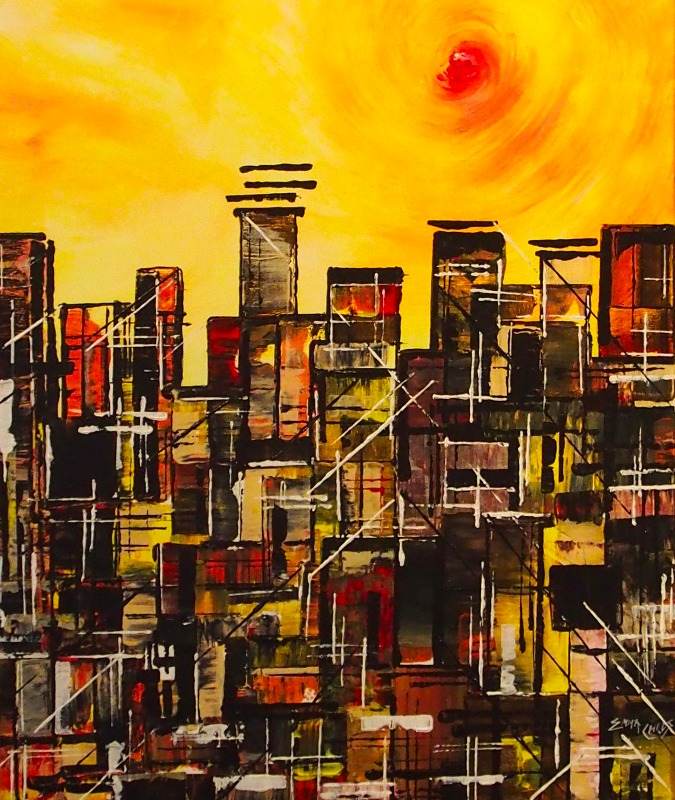 Nine to Five 2
Customer wanted a reproduction of this as it had sold so I re-produced this one below on a larger scale on canvas using the same Acrylics,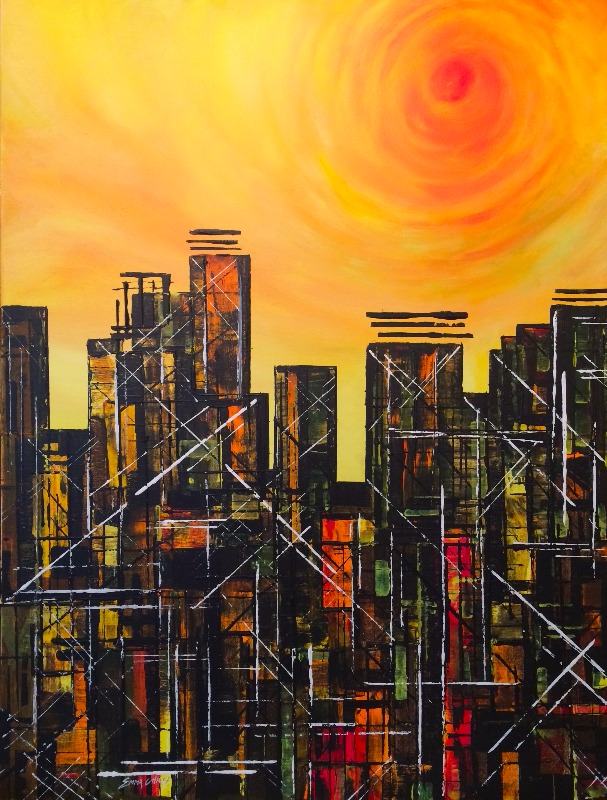 Making slight alterations so as to not exactly replicate the original but produce the same painting with a warm urban feel to it.
Myself and the Viva art team have been commissioned by The English Riviera Tourist Board to paint a series of pictures representing the life and times of Agatha Christie our exhibition will be held at The Grand Hotel during the Agatha Christie International Festival on September 11th, the exhibition runs for 9 days and opens with a 20's/30's themed cocktail party for the opening!
Below is a selection of some of my paintings that you will be able to view and purchase at The exhibition..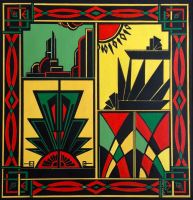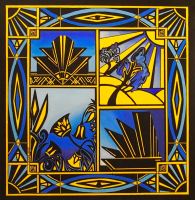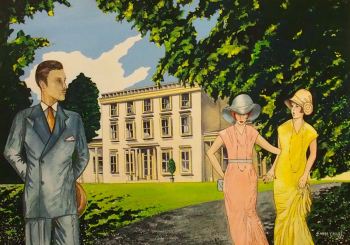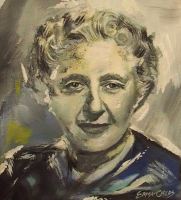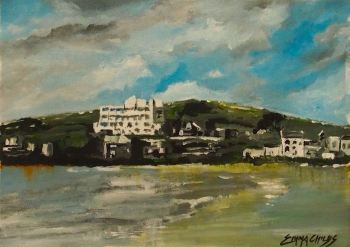 Look forward to hopefully seeing you there!
FURTHER COMMISSIONS
I have been asked to re-produce a set of 4 Art Deco Transport poster style paintings that will replicate these below, the customer has chosen their own colours making this a very personalised set of 4 original paintings. 1 Art deco plane, 1 Art Deco car, 1 Art Deco train 1 Art Deco boat.
Similar to these shown below, if you would like your very own personal original Art deco vintage style travel paintings please e-mail me and I will be happy to help.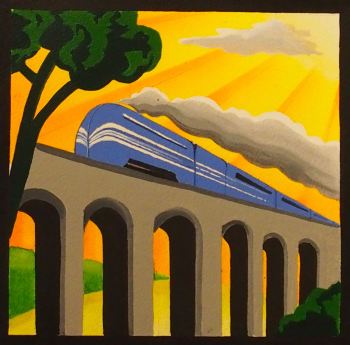 I recently was asked to produce a set of 4 original Art Deco Transport paintings for a lovely customer in Thornbury Bristol who wished for a green train (the original sold was blue), a silver plane, a red vintage car, and a very similar boat to the one sold.
Here are the finished results. The measurements are 19.5 x 16.5 inches including ivory mount (unframed) These were very carefully hand painted using Acrylic and took 2 weeks to complete all ready to send.
Should you wish for any paintings commssioned please contact me and I will get straight back to you.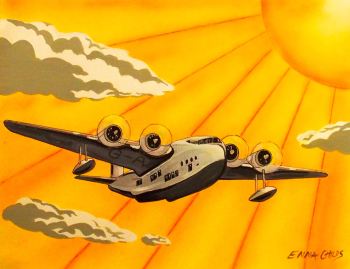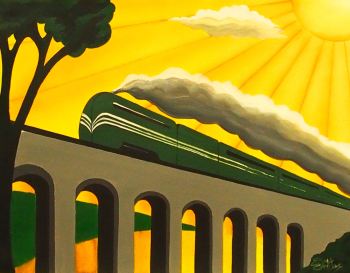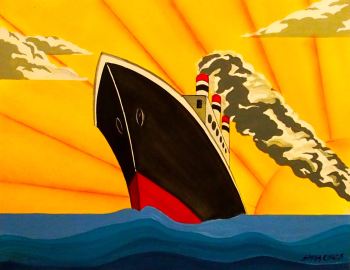 I was recently asked to paint Ashfield House for a customer in Oxford, the instructions were sepia, vintagey old feel as this was Agatha Christie's childhood home which has since been demolished long ago, and all that remains is a memory taken from an old photograph. This painting was taken from the photograph using Acrylic paints.
This was the outcome. The customer was very happy indeed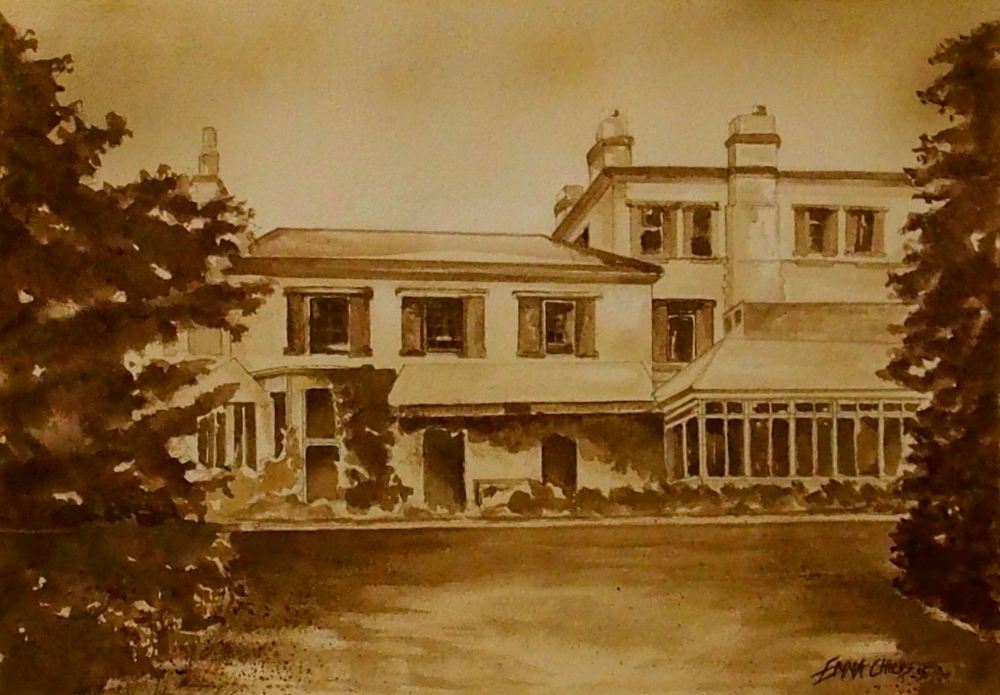 Below is a painting of a customer's Citroen Traction Avant from Florida USA surrounded by Deco inspired scenery that I was commissioned to paint.
The painting is 4 foot across, a large painting hand painted using Acrylics. The painting took 3 weeks to complete from the initial proposal process of sketches back and forth to the finalised painting. I worked from a photo provided by the customer of his beautiful car but painted my own landscape surrounding it in an Art Deco style.
These types of commission are large format and my typical price ranges from £2500 to £3500.
Below is the finished painting, followed by the photograph of the car and some rough sketches to show the car in any setting as the customer initially favoured my 'Avenue of Trees' series, but eventually decided upon an Art Deco setting which was inkeeping with this classic Deco car.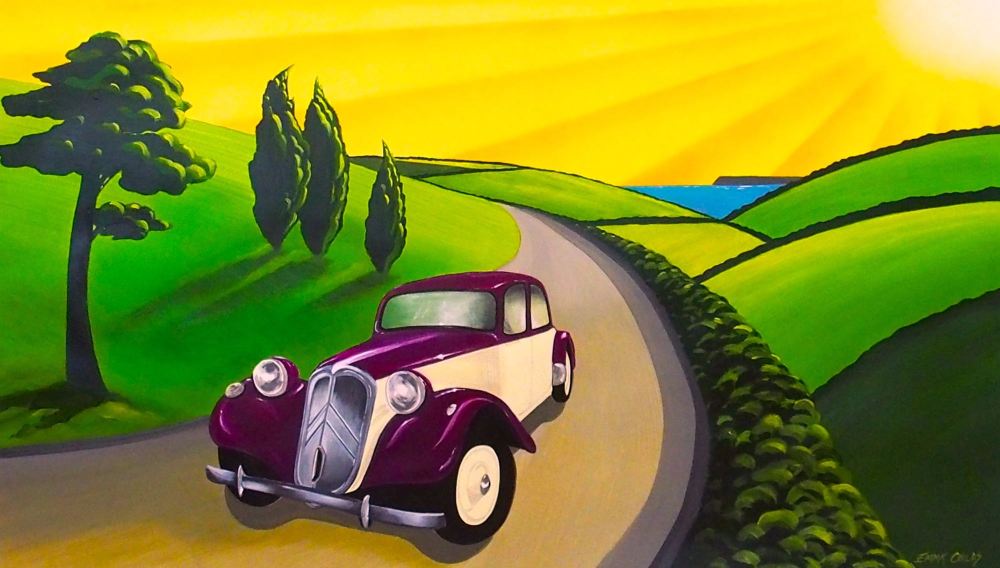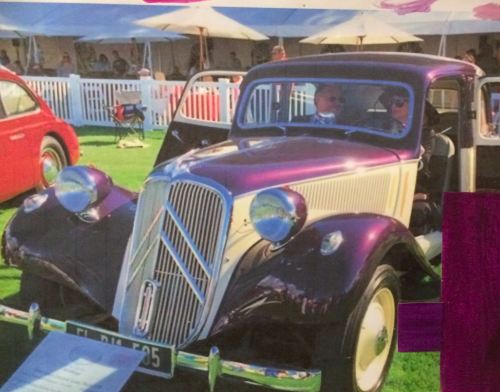 Below some rough sketches to determine the possible settings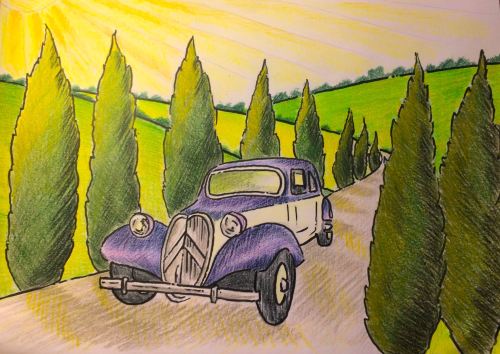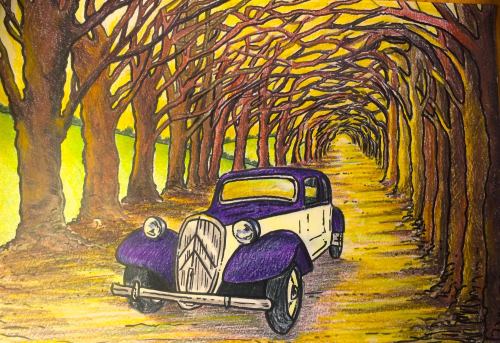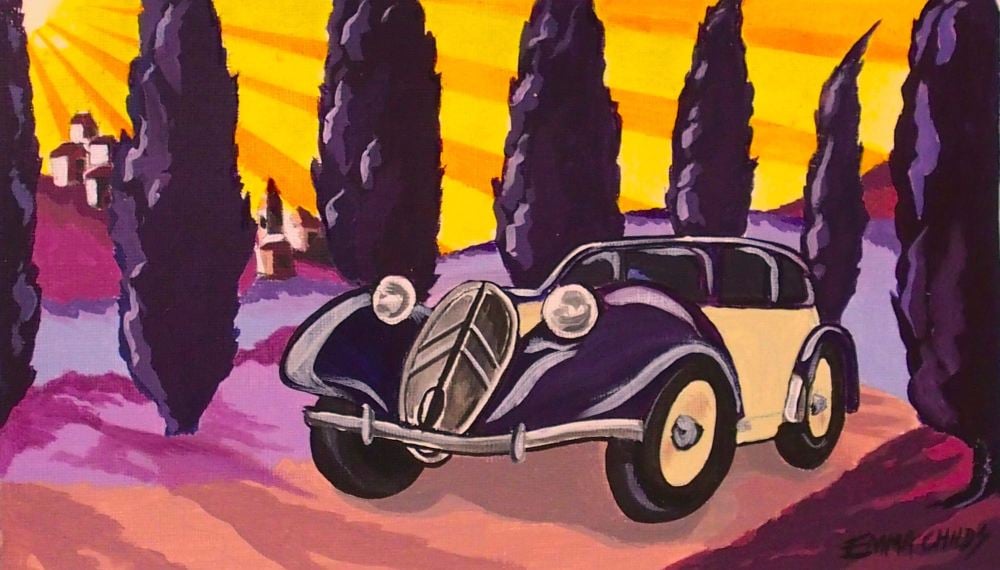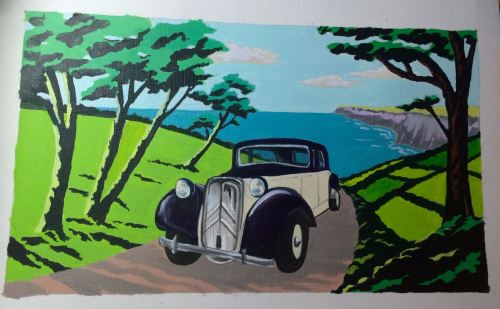 My price range for a painting of this scale is £2500 - £3500 please get in touch if you would like a bespoke painting commissioned.
ART DECO BIGBURY COMMISSION
The brief for this next commission was to produce a hand painted Art Deco holiday poster style painting of the customer's holiday home adding Burgh Island in the scene and a vintage car to compliment the composition. A sort of 'welcome to Bigbury On Sea' Art Deco poster. I set to work on a series of sketches as with all commissions so the customer can choose which one they like enabling me to commence on the main painting.
Below are the rough sketches I painted all including the customer's holiday home with alternating view/composition of the required additions i.e, Burgh Island, vintage car. These were rough sketches as you can see just to give the customer an idea of the finished result depending on the chosen sketch. The customer chose number 1 of 3. These are photos of each process as you can see the large unfinished painting in my studio with the smaller sketch above it I worked from and a photo of the customer's holiday home.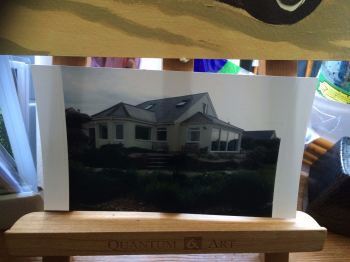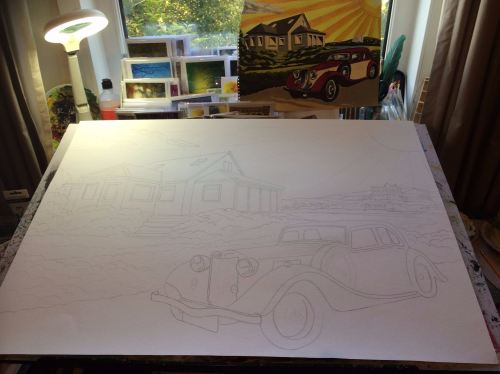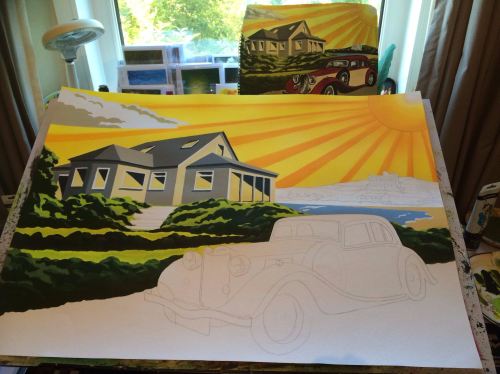 Some studio shots and the other 2 rough sketches. The final piece was well received by the customer, taken home to be framed.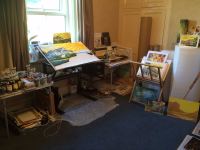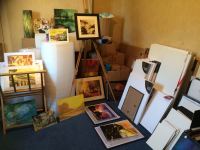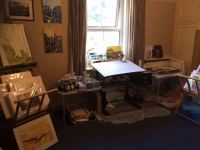 The dimensions of this piece was 85 x 60 cm
I can produce any painting you like and turn your memories and cherished things into a beautiful painting to keep forever should you wish me to undertake a commission please email me and I will happily give you a quote and discuss the step by step process with you so you can own your own bespoke painting which will always be a part of you and your life to enjoy.
ART DECO TOTNES!
I was commissioned by Studio 71 Art Gallery in Totnes to paint an original Art Deco style picture of Totnes high street which is totally exclusive to Studio 71 Art Gallery.
It was an enjoyable picture to paint. Inspired from what I imagine 30's Totnes would have looked like, complete with vintage car of course! (Austin!)
The Gallery were thrilled with it and it is now for sale there complete with certificate of authenticity, professionally framed and ready to hang. Hand painted in Acrylics.
Please enquire within, or phone: 01803 431320
email: www.studio71totnes.com